By using Pure Gold from hemp oil, people can experience the health benefits of CBD oil while avoiding the detectable THC content. Each 30 ml bottle contains 250mg CBD – more than 8mg CBD per serving.
The new Pure Gold 250mg oil is made with organic hemp seed oil instead of medium chain triglycerides (MCT), which means that anyone who is sensitive to MCT can use Pure Gold.
250 mg Pure Gold is supplied in a 30ml amber glass bottle with a practical dropper.
The oil is also available in a concentration of 500mg CBD or in 120ml bottles with 1000mg CBD.
Kannaway's CBD Product Range
With high quality standards, Kannaway offers products which ensure health and prosperity.
Kannaway's hemp-based products are tested several times under strict conditions and therefore offer a very high level of quality.
Their ingredients come from the leading horticulturalist in Europe, where the soil is well nourished and contains no pesticides, herbicides or chemical fertilizers.
Kannaway do not use toxic substances such as propane or butane, but chose the natural way. Their CO2 fluid extraction process converts cannabis plants into usable biomass. From there they start various refining processes to produce hemp base oil. The first step is to refine as little as possible to keep the CBD hemp oil in its unaltered form. The last step is to filter almost all the plant material in a proprietary process and remove excess wax.
Kannaway has a wide range of products and focuses mainly on the wellness sector. In addition to complete wellness bundles, Kannaway also offers CBD oils, CBD capsules, creams, CBD dog food and much more. The individual products can be ordered in many different concentrations and sizes.
They offer a telephone customer service in 10 different languages and it is also possible to send an e-mail or consult the FAQ.
Kannaway CBD Products Range
The following are some of the products from Kannaway
Pure Gold Gel Capsules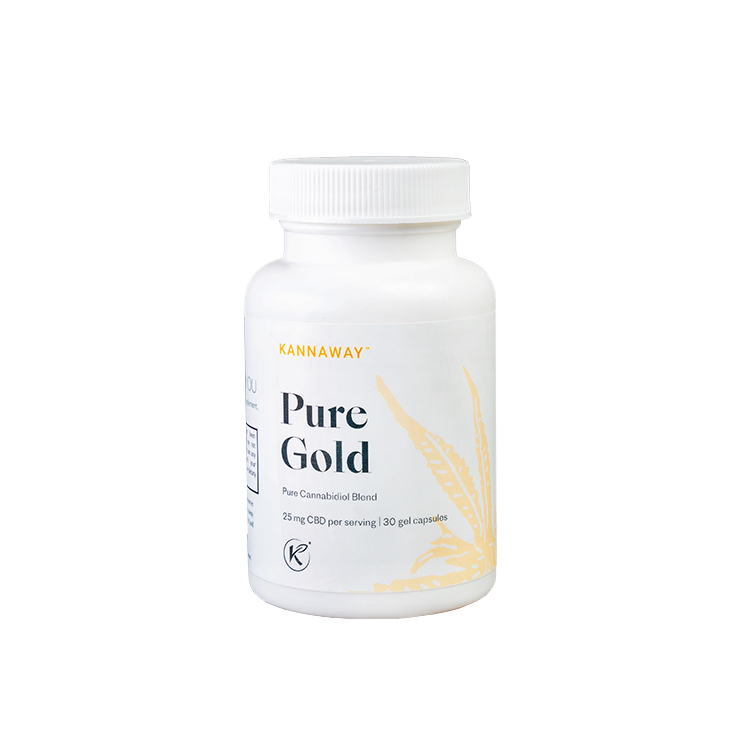 Using the pure gold capsules, you can easily supplement cannabinoids in your daily work. Each of the pure gold capsules contains 25mg of CBD. This is an excellent source of various cannabinoids, flavonoids and terpenes naturally present in hemp.
Every pack contains 30 capsules with an amount of 25mg CBD each.